www.kitzastro.net
Island 2021

Vik i Myrdal




Vik i Myrdal ist die südlichste Stadt des isländischen Festlandes. Der nur ca. 500 Einwohner zählende Ort am Fuße des Gletschers Myrdaljökull ist bekannt für die vielen Sehenswürdigkeiten, die man hier findet. Besonders bekannt ist der aus Lava entstandene schwarze Strand mit 3 Felsnadeln aus erstarrter Basalt-Lava. Die vulkanische Halbinsel Dyrhólaey mit einem markanten Felsbogen befindet sich rund 6 km westlich des Ortes.




Vik i Myrdal is the southernmost town on mainland Iceland. The village with only about 500 inhabitants at the foot of the Myrdaljökull glacier is known for the many sights that can be found here. The black beach with 3 rock pinnacles made of solidified basalt lava is particularly well-known. The volcanic Dyrholaey peninsula with a striking rock arch is located around 6 km west of the village.
...die lutherische Kirche von Vik...
...the Vik lutheran church...
Sony RX10-III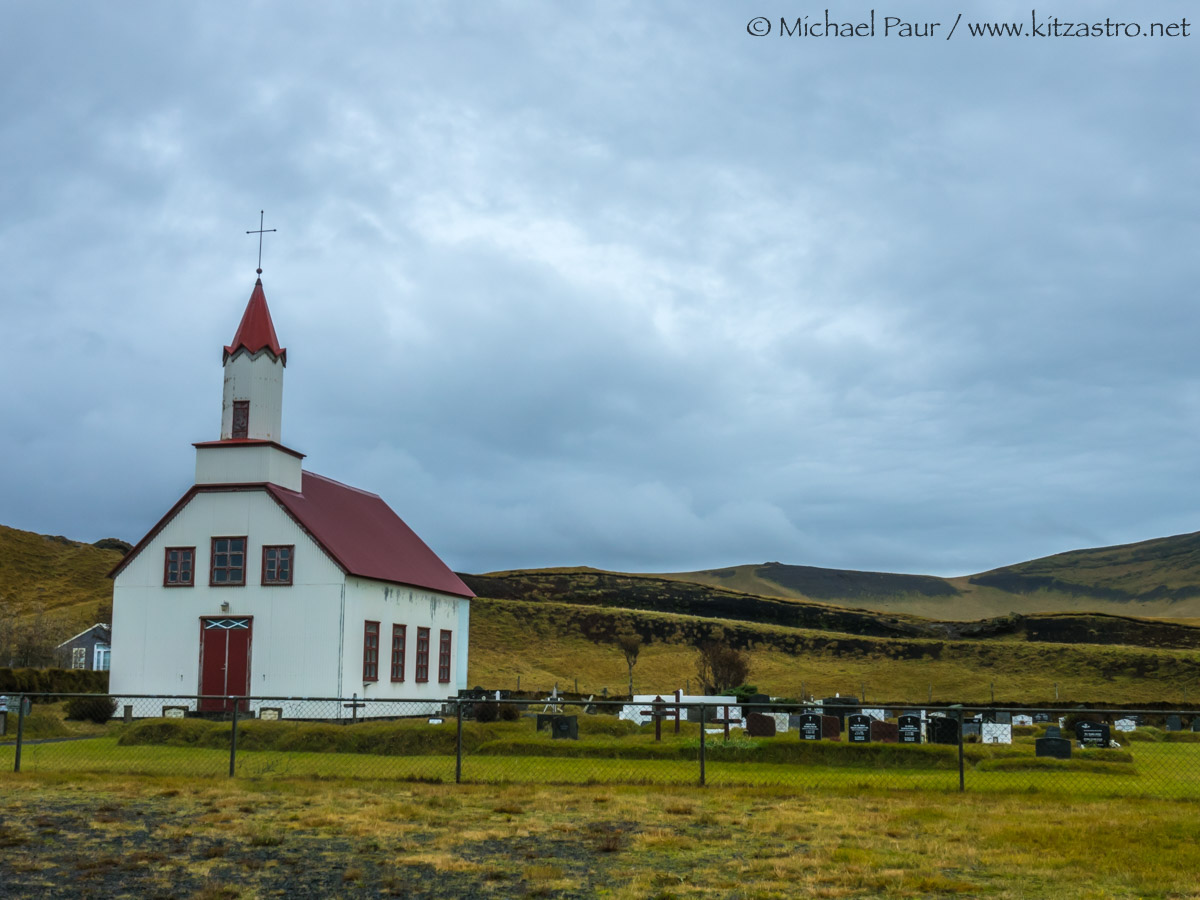 Die um 1900 erbaute Skeidflatarkirkja...


Seidflatarkirkja build around 1900...


Sony RX10-III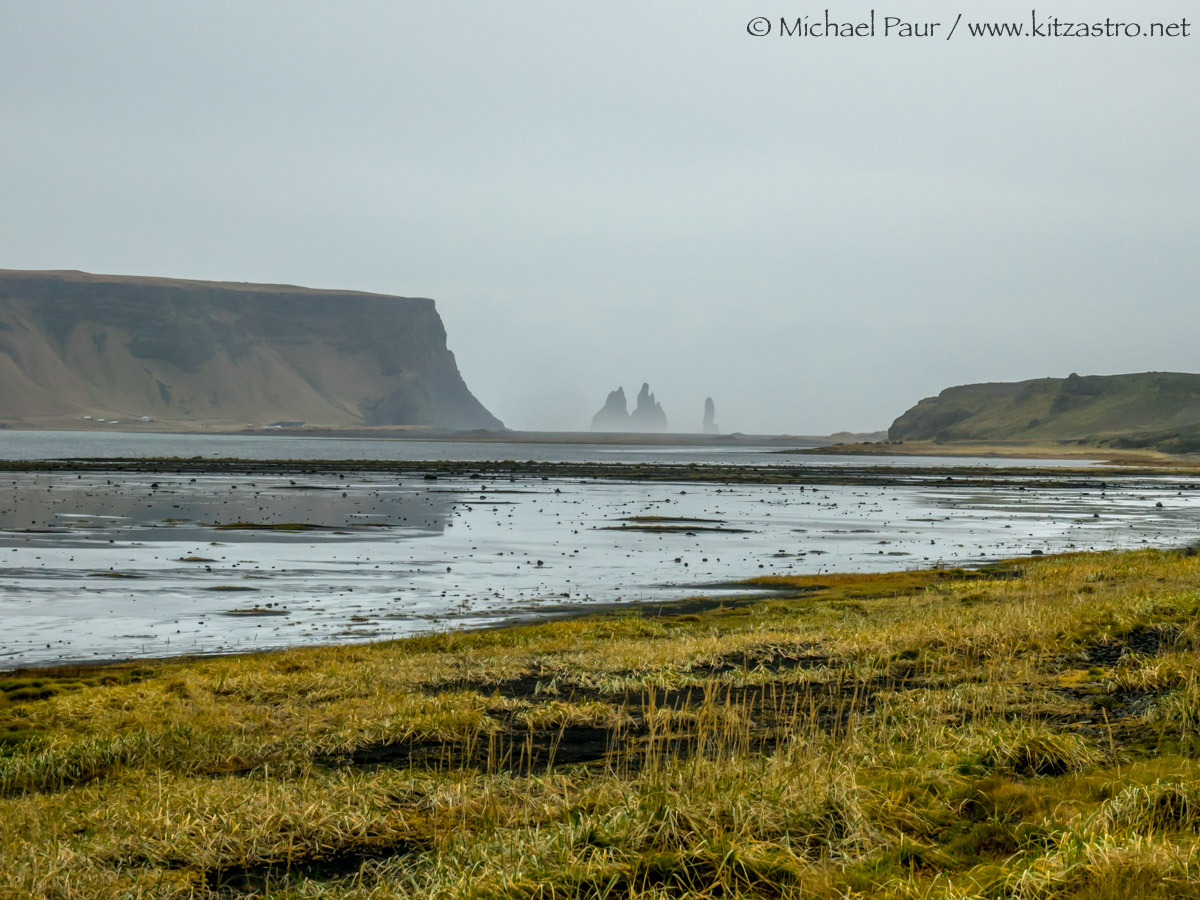 Die Felsnadeln Reynisdrangar am Strand von Vik...
The rock needles at the beach of Vik...

Sony RX10-III
...Reynisdrangar ist der Name der freistehenden Seespitzen die direkt vor der Küste von Reynisfjara liegen...
...Reynisdrangar is the name of the freestanding lake peaks that lie just off the coast of Reynisfjara...
Sony RX10-III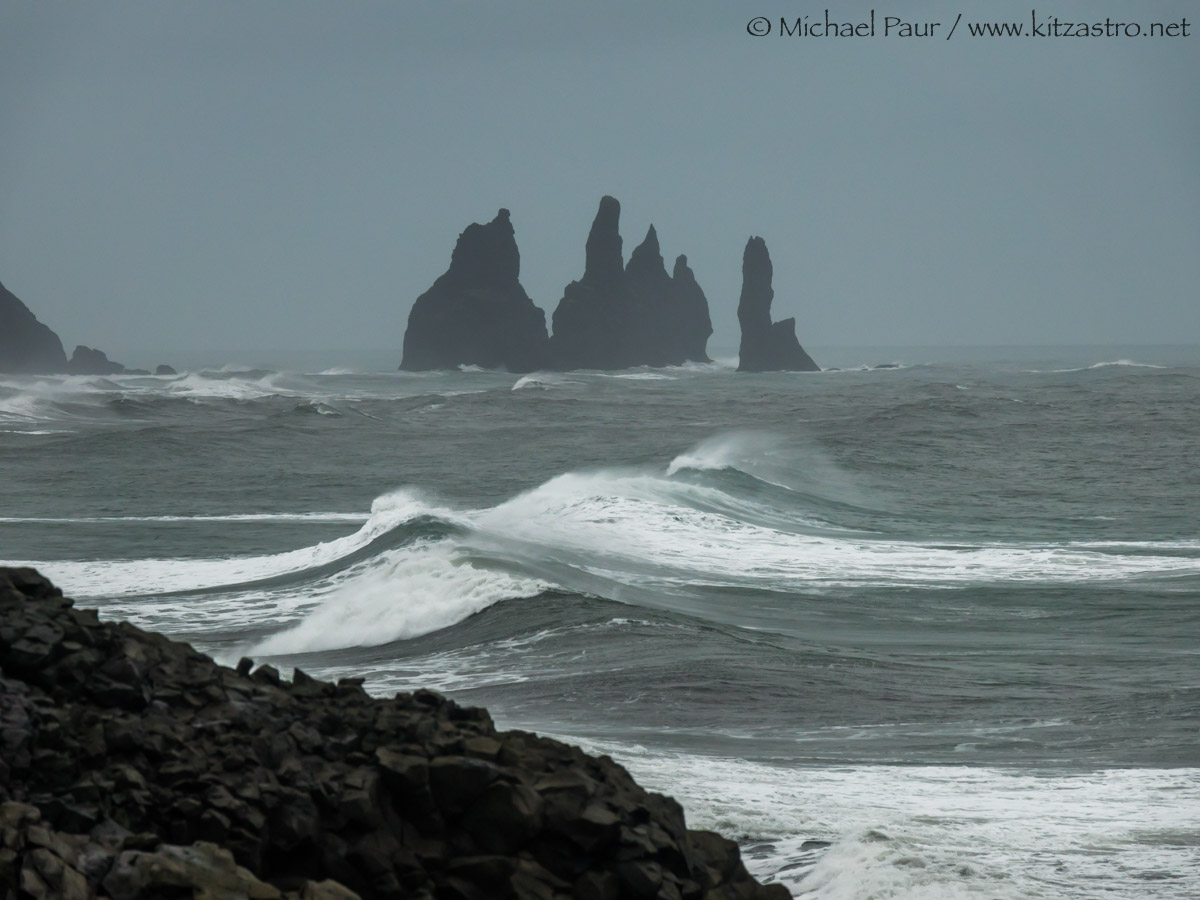 Nach einer isländischen Legende sind die Reynisdrangar-Spitzen die Überreste eines Kampfes zwischen zwei lokalen Trollen und einem
dreimastigen Schiff. Als das Tageslicht kam, verwandelten sich die zwei Trolle zu Stein, das Schiff war mit ihnen für alle Ewigkeit gefangen
und formte eine Gruppe von Seespitzen, die wir heute als Reynisdrangar-Kolumnen kennen...
According to an Icelandic legend, the Reynisdrangar spiers are the remains of a battle between two local trolls and a three-masted ship.
When daylight came the two trolls turned to stone, the ship was trapped with them for all eternity,
forming a group of lake peaks that we know today as Reynisdrangar columns...
Sony RX10-III

...was für eine beeindruckende Küste...
...what an impressive coastline...
Sony RX10-III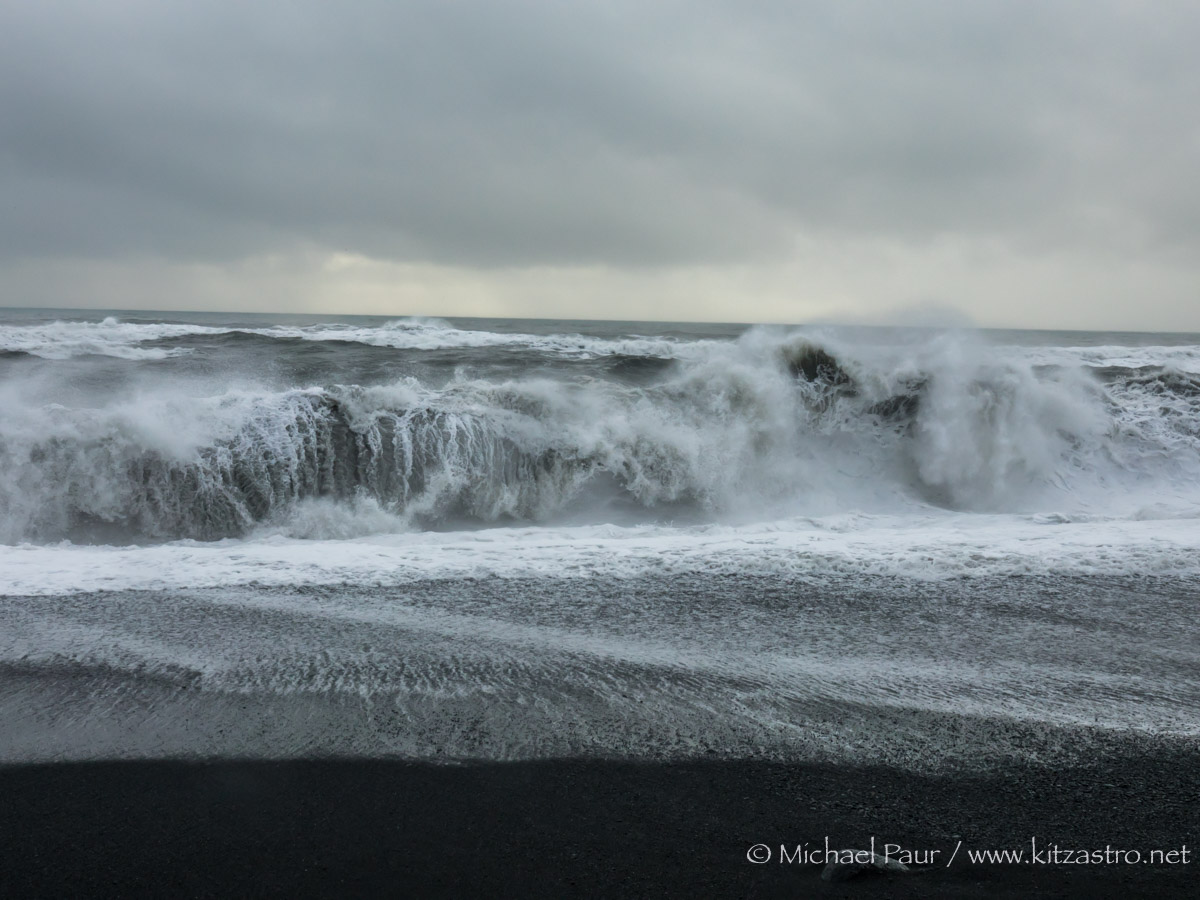 ...unter wildem Getöse brechen die Wellen am Strand - was für eine Naturschauspiel...
...the waves break on the beach with a wild roar - what a natural spectacle...
Sony RX10-III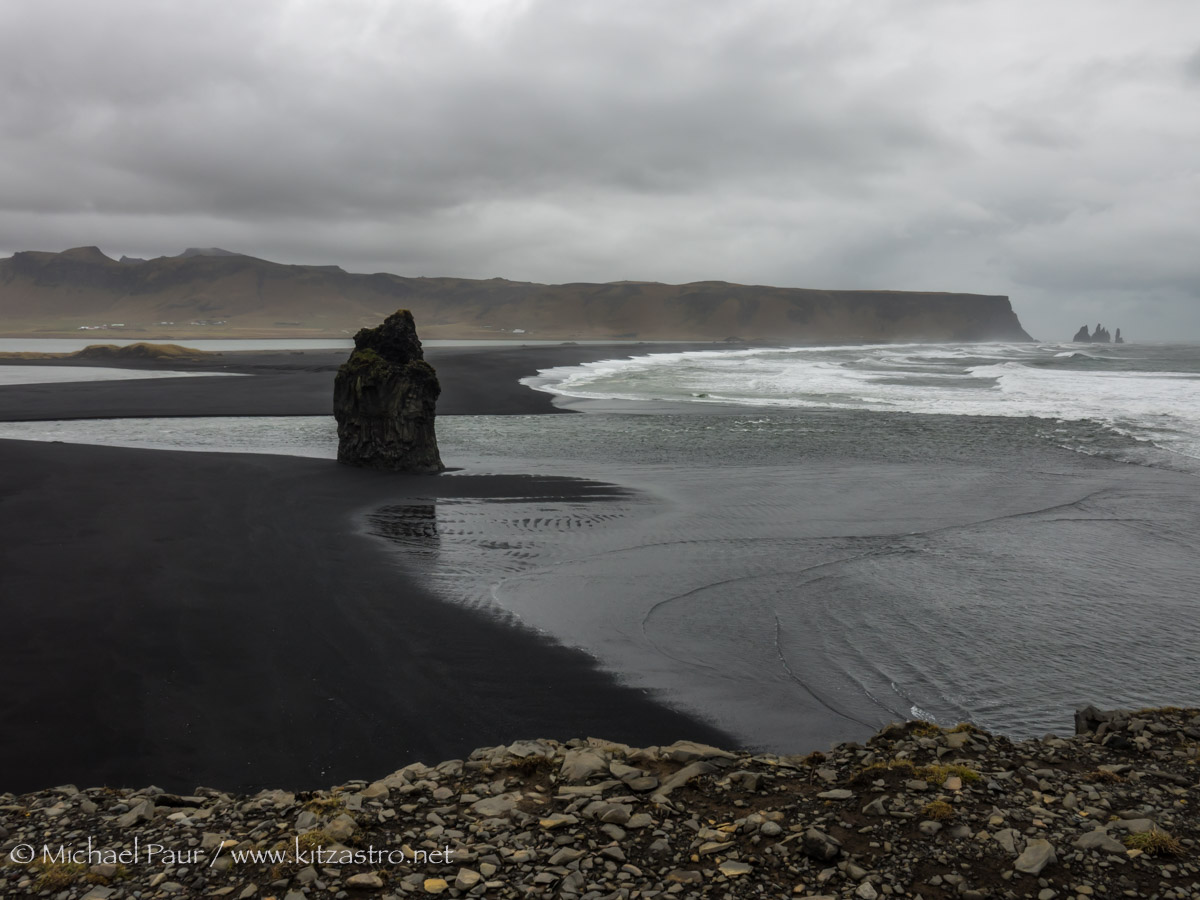 ... der Schwarze Strand von Reynisfjara ist einer der bekanntesten Strände von Island...
...Reynisfjara Black Beach is one of the most famous beaches in Iceland...
Sony RX10-III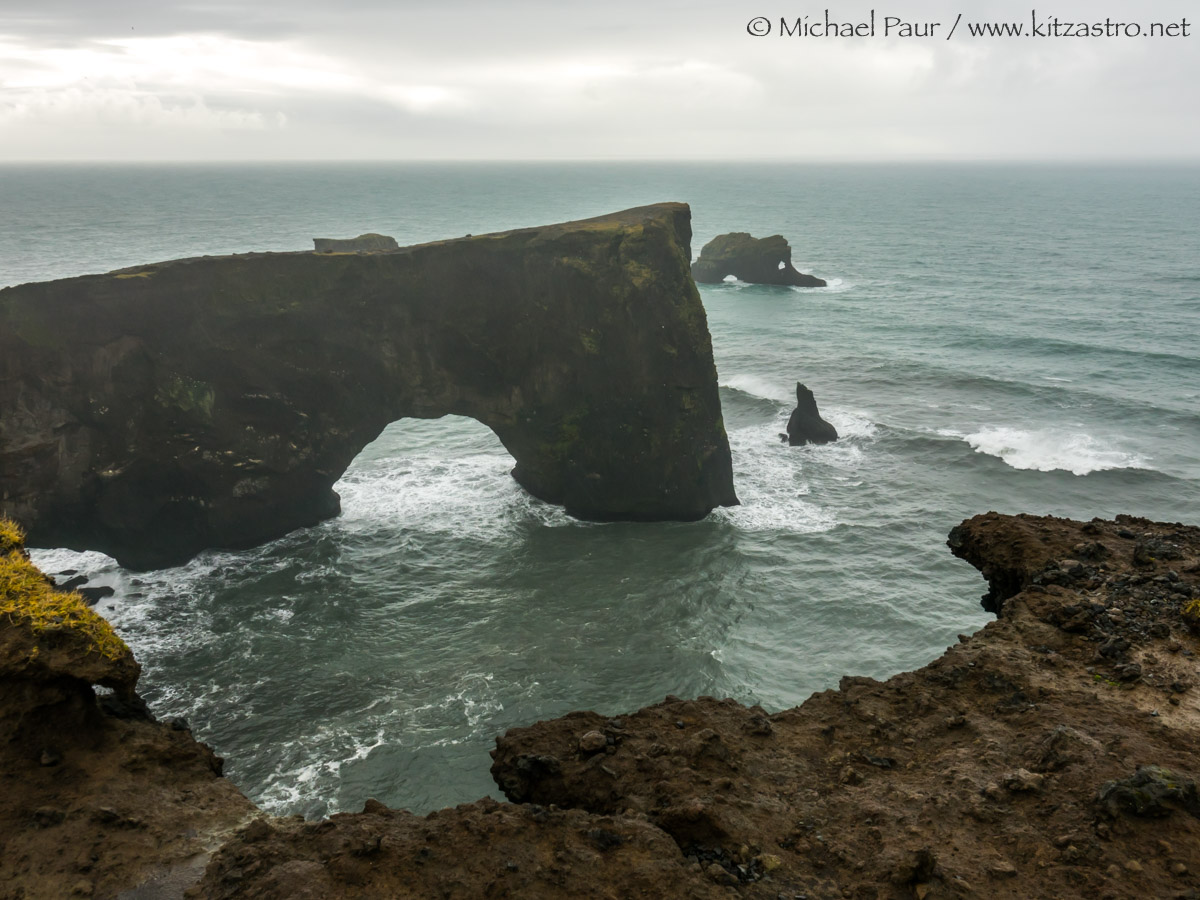 ...der Felsbogen vor der Halbinsel Dyrholaey...
...the rock arch in front of the Dyrholaey peninsula ....
Sony RX10-III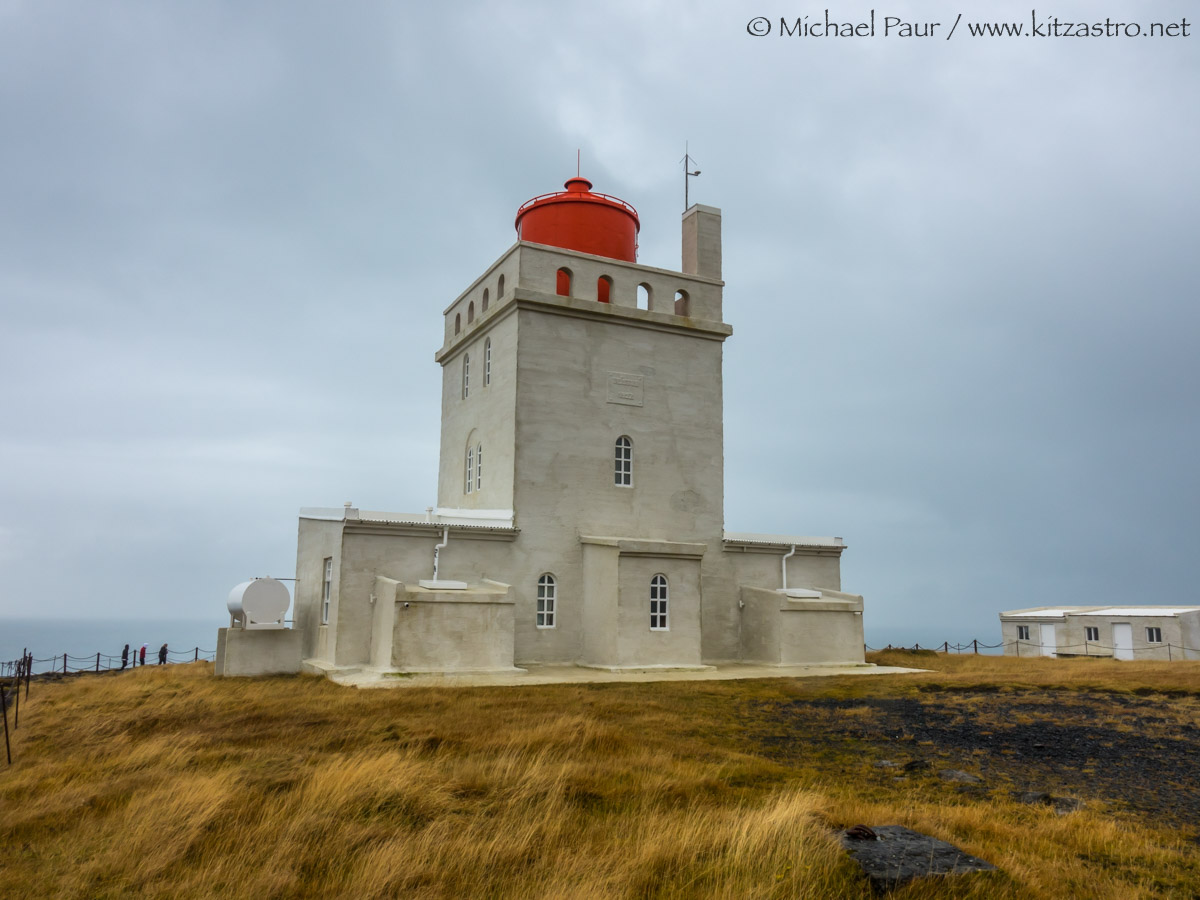 ...Dyrhólaeyjarviti, Baujahr 1927, Höhe 12,7 m, Leuchtweite 27 Seemeilen...
...Dyrhólaeyjarviti, built in 1927, height 12.7 m, light range 27 nautical miles...
Sony RX10-III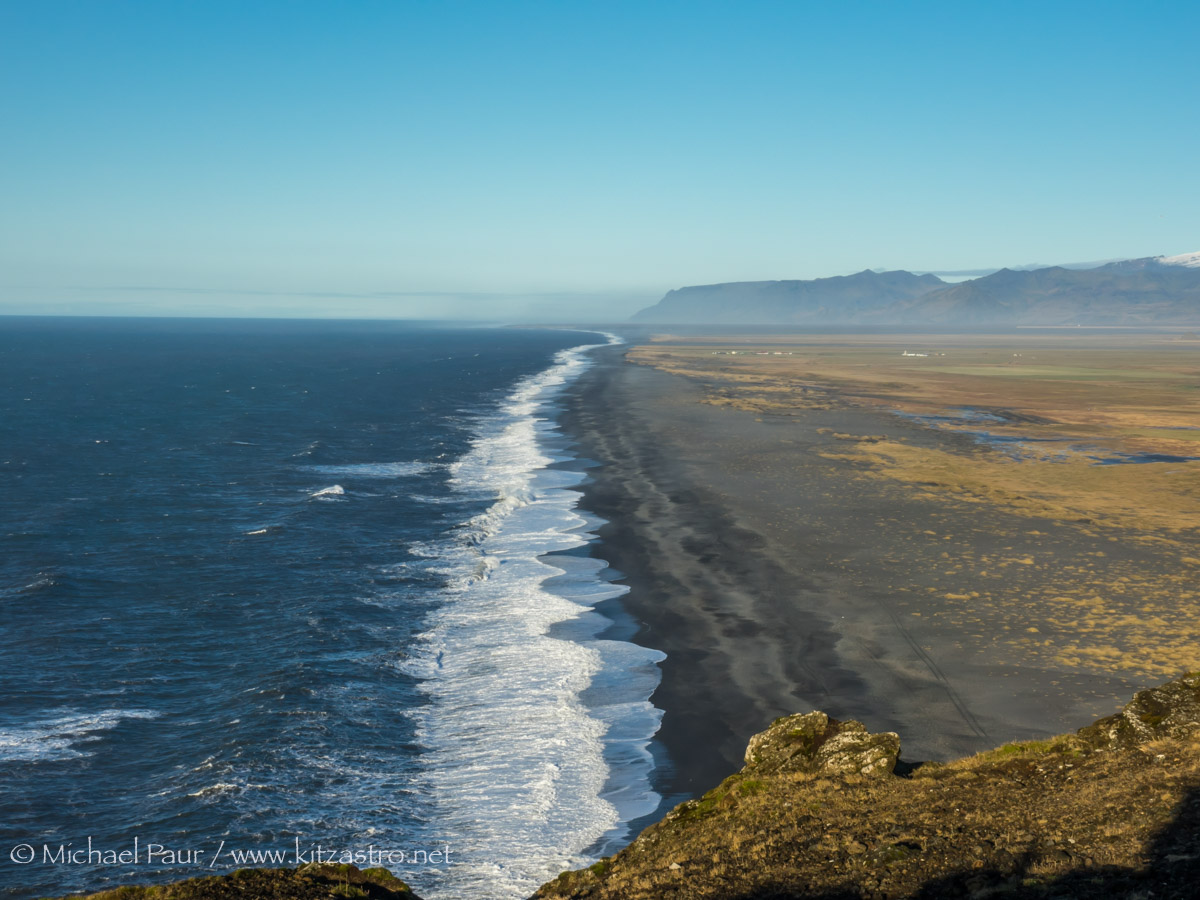 ...der endlose schwarze Strand. westlich der Halbinsel Dyrholaey...
...the endless black beach west of Dyrholaey Peninsula...
Sony RX10-III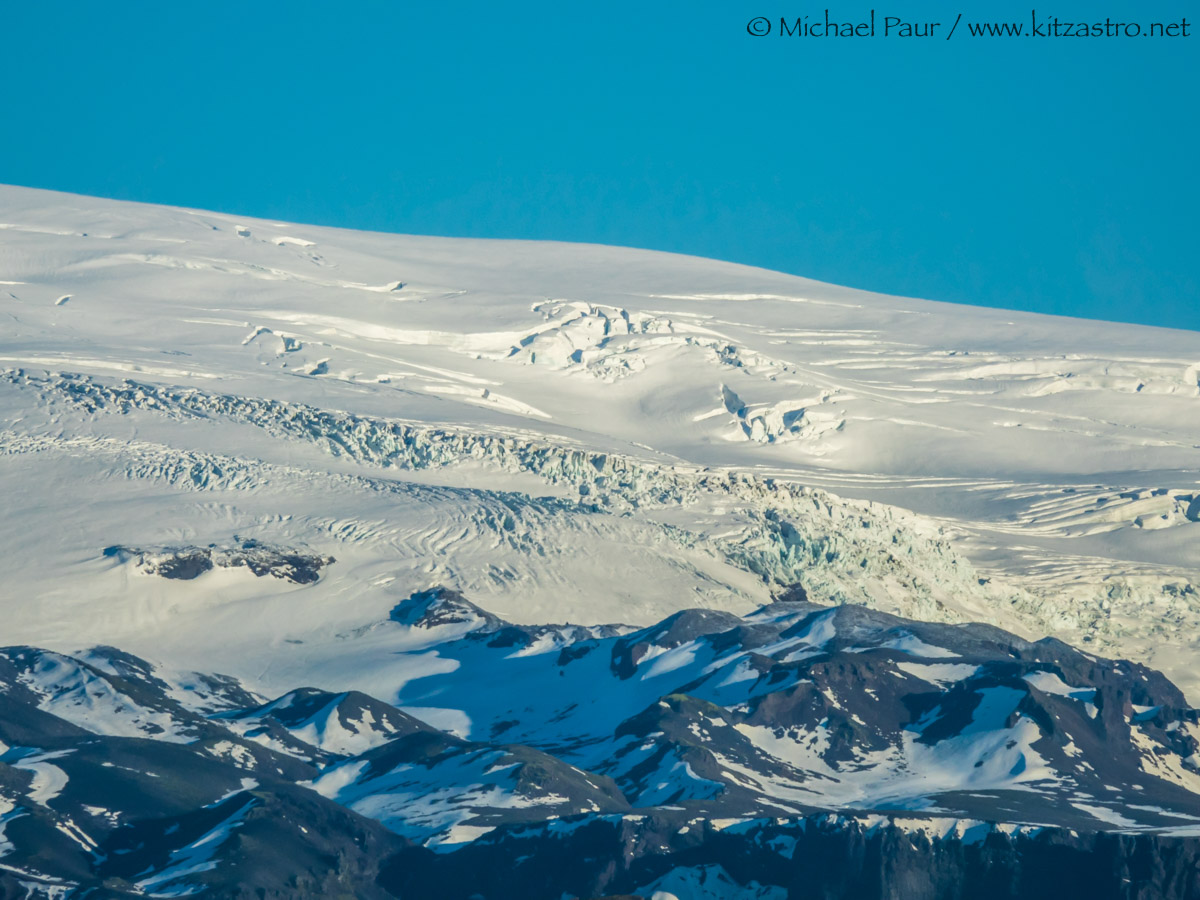 ...der Myrdalsjökull an dessen Fuß Vik liegt...
...Myrdalsjökull at the foot of which Vik lies...
Sony RX10-III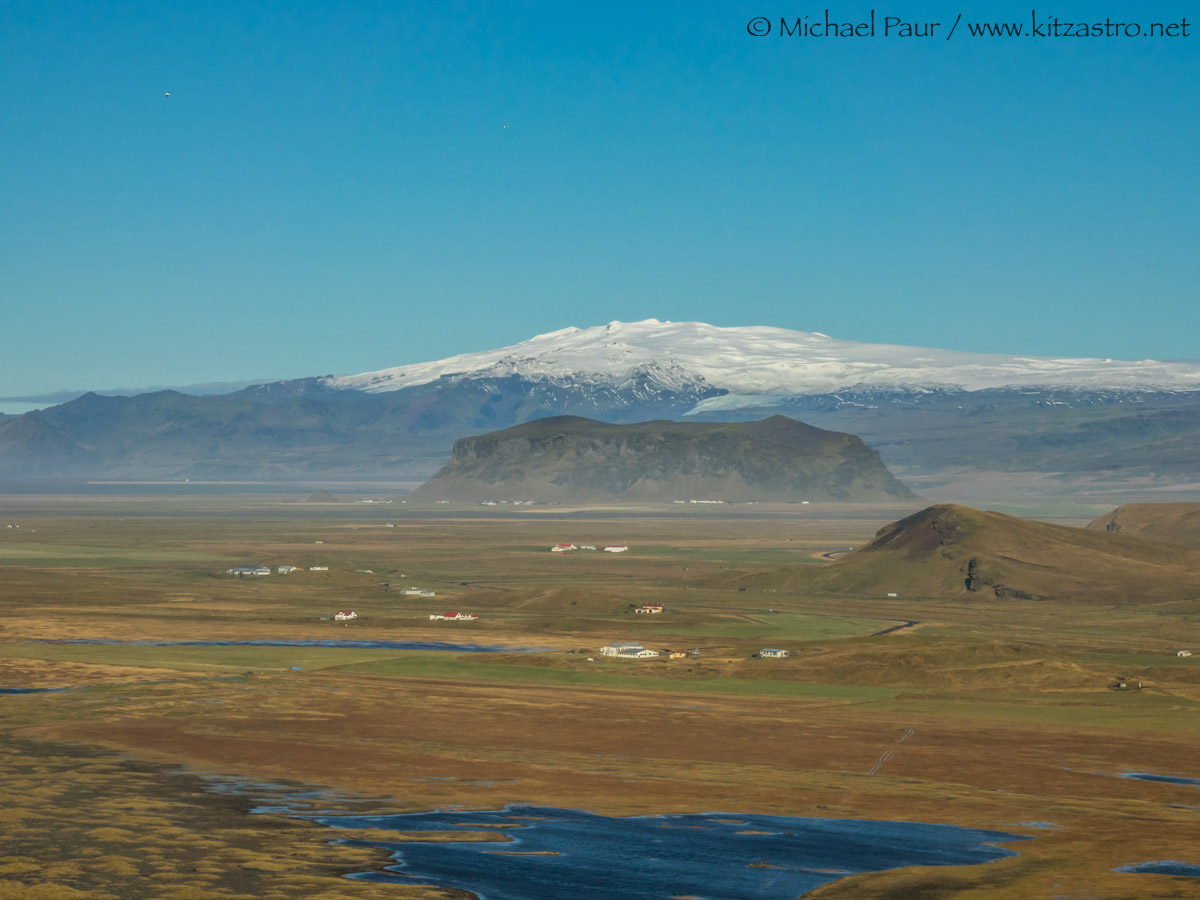 ...Blick von der Halbinsel Dyrholaey auf den Gletscher Eyjafjallajökull und den Mount Peturseyin Vordergrund...
...View from the Dyrholaey peninsula to the Eyjafjallajokull glacier and Mount Peturseyin the foreground...
Sony RX10-III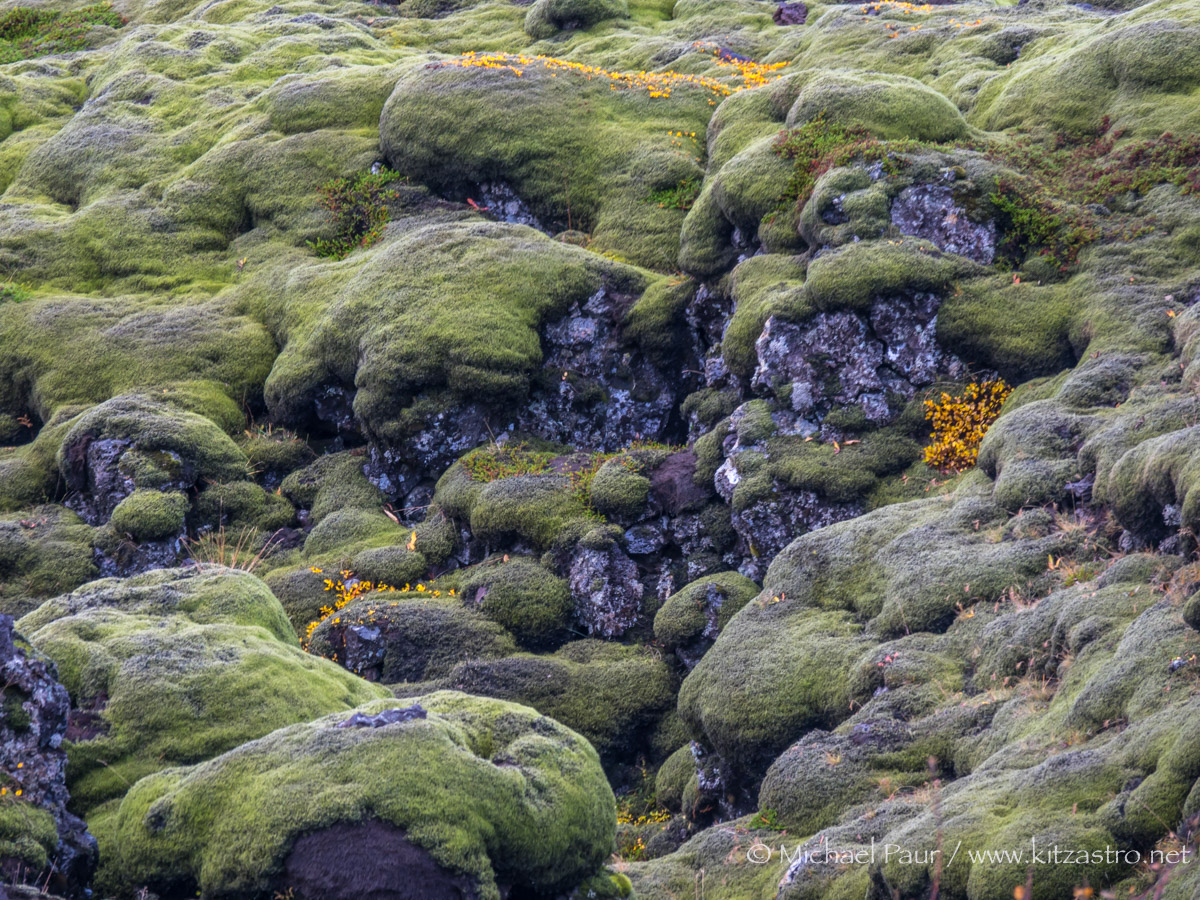 Eldhraun Lavafeld - ein altes, riesiges Lavafeld. Moos überzieht das Lavagestein...
Eldhraun lava field - an old, huge lava field. Moss covers the lava rock...
Sony RX10-III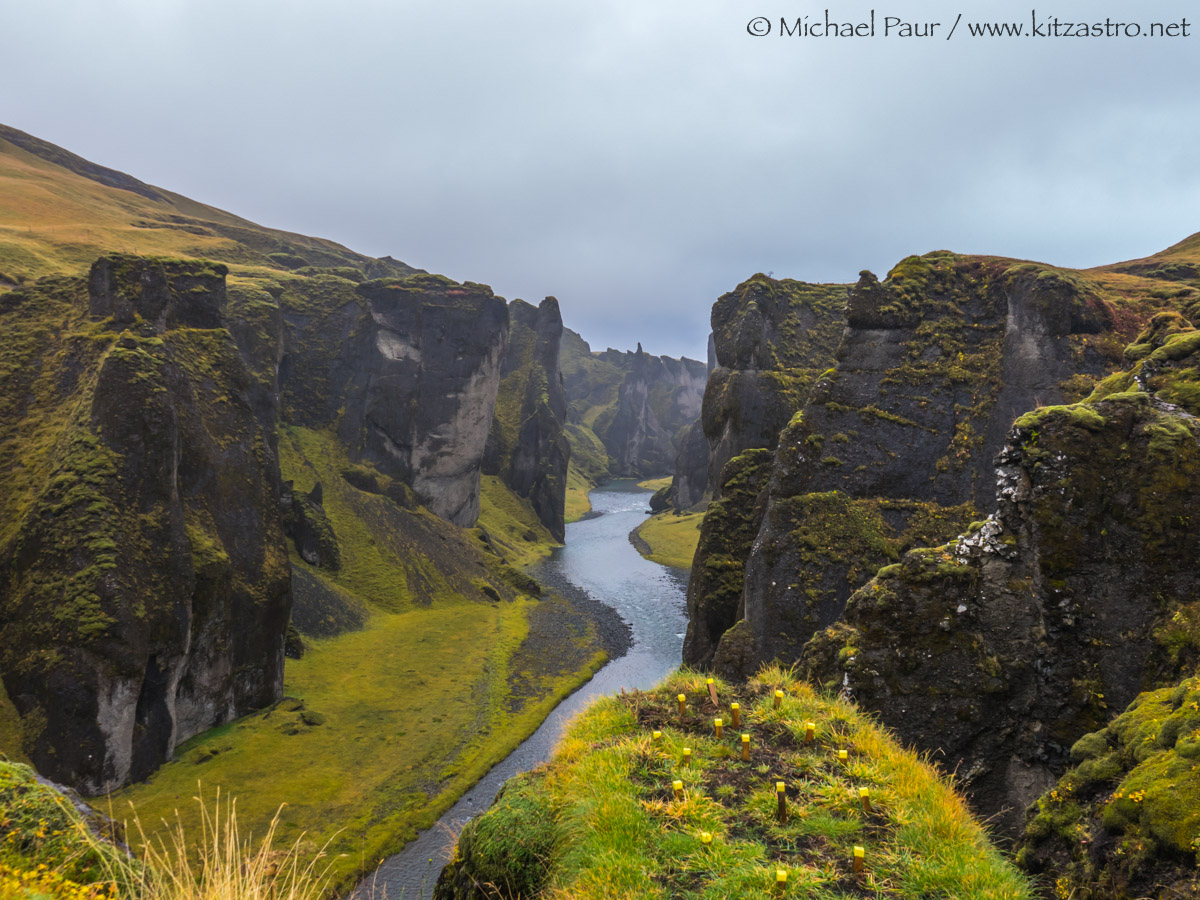 Fjadrargljufur - ein atembaraubend schöner unter Naturschutz stehender Canyon im Süden des Landes ist ein Teil des Katla Geoparks...
Fjadrargljufur - a breathtakingly beautiful protected canyon in the south of the country is part of the Katla Geopark...
Sony RX10-III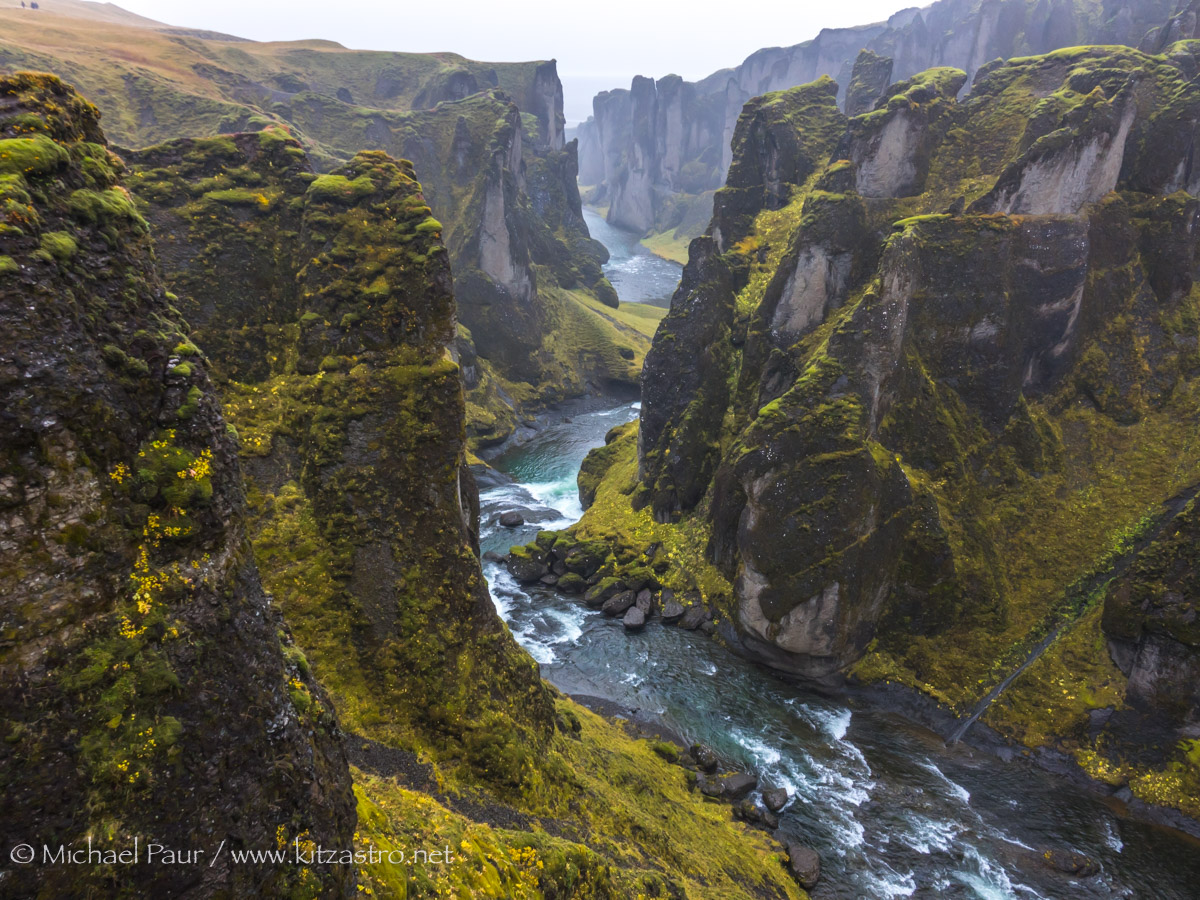 ...die 2 Kilometer lage und bis zu 100 Meter tiefe Schlucht ist nur durch die Kraft des Wassers entstanden. Der Fluß Fjadra hat sich hier
über Jahrtausende in das Palagonitgestein gegraben...
...the 2 kilometer location and up to 100 meters deep gorge was only created by the power of the water. The river Fjadra has become here
dug into the palagonite rock over thousands of years...
Sony RX10-III

Mögafoss (links) und unbekannter 2. Wasserfall von der gegenüberliegenden Seite....
Mögafoss (left) and unknown 2nd waterfall from the opposite side...
Gopro Hero 7 Black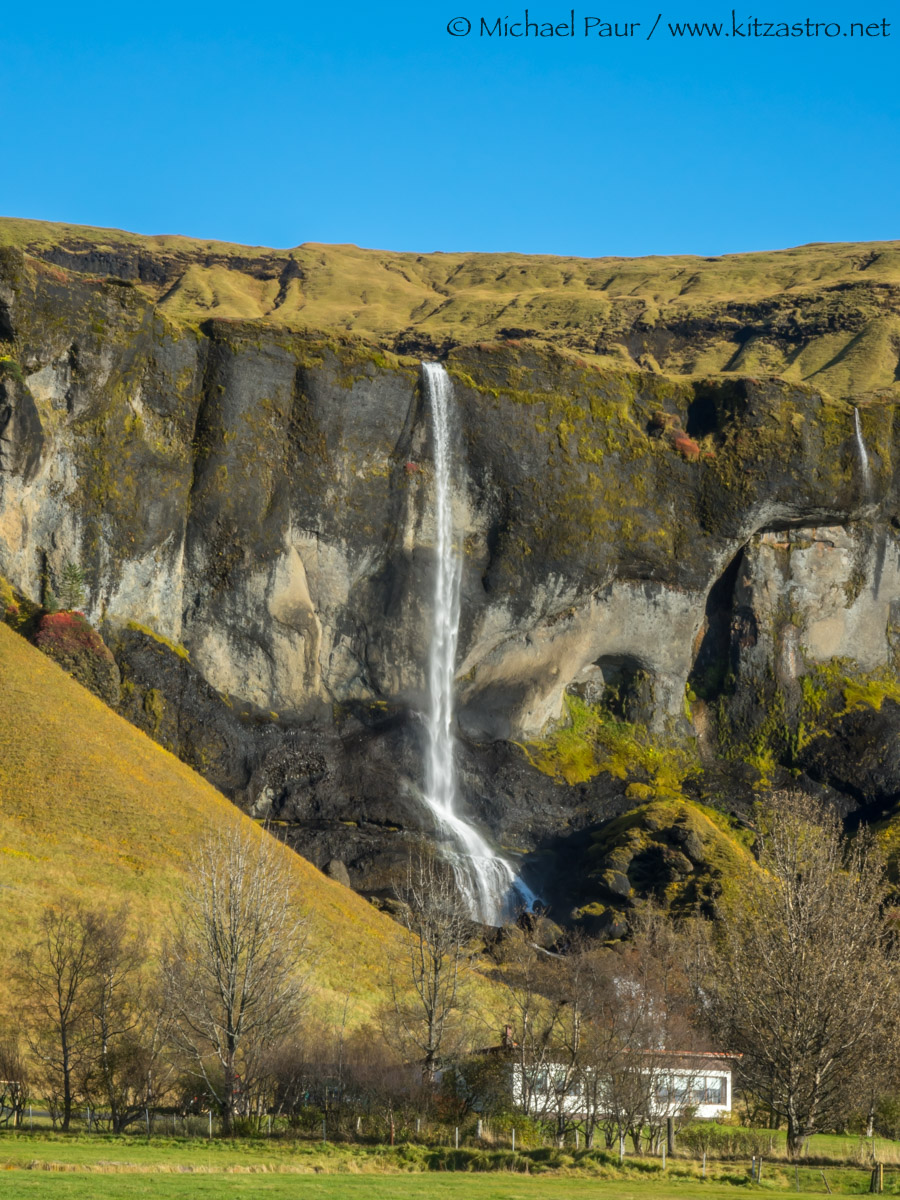 Foss a Sidu - ein 82 Meter hoher Wasserfall direkt an der Ringstraße gelegen...
Foss a Sidu - an 82 meter high waterfall located directly on the ring road...
Sony RX10-III

Fossalar - keinen Kilometer hinter dem Foss a Sidu ebenfalls direkt an der Ringstraße gelegen...
Fossalar - not a kilometer behind the Foss a Sidu, also located directly on the ring road...
Canon EOS 6D MK2

...es geht weiter in die Gletscherregion
zurück zur Island-Übersicht
zurück zur Bilderalbum-Übersicht